In March 2015, my 9-year-old Fox Red Labrador, Kenzie was diagnosed with a horrible kidney condition called Protein Losing Nephropathy (PLN). I had taken him to the vets initially because I noticed him leaking urine but on being diagnosed, the vet's words to me were 'I'm sorry' because PLN is a terminal condition and the prognosis extremely poor.
In the couple of months which followed, Kenzie's energy levels plummeted, he would walk sluggishly, drag his claws with his pace being almost at a standstill during just a 20-minute walk. The leaking persisted, it worsened such that he had to wear a nappy around the house and people remarked on how sorry he looked. It's fair to say I didn't think I would have him with me much longer.
In May 2015, a friend put me in touch with Dr Birgit Holistic Vet as she believed Kenzie could be helped. At our first consultation, Kenzie curled up on the floor almost immediately, listless. We had a very in-depth discussion which led to the proposed treatment plan and his first acupuncture session, which, being a gentle Labrador, didn't faze him at all. He appreciated the treat morsel at the end.
Since May, Kenzie has had monthly sessions with Dr Birgit and has been continuously improving. Through acupuncture, homeopathy and other methods, his kidneys and liver have been strengthened, the energy levels improved and my boy started to look happy again.
After six months of treatments and encouraging progress throughout, there was a considerable step change which I had not anticipated. Kenzie had all but stopped leaking urine! He doesn't have to wear a nappy anymore!! When we go for our walks he is so excited he bounces up and down and then canters off in a happy, puppy-like fashion. He then trots all the way, exploring, sniffing, then canters to me if I'm ahead. He is so happy when we visit Dr Birgit; during our last meeting, he stood up throughout the whole session, so energised and he even put his nose under Dr Birgit's arm, nudging her for attention and fuss!
It's almost incomprehensible for me having seen my boy so close to what I feared was the end, only now to see a happy dog with such zest for life. The people who had commented previously have since told me they can't believe how healthy he looks, that he doesn't look like an 'old man' anymore. Others are in disbelief when I say he's almost 10… 'But he looks so young and healthy!'
We're in a really positive place and whilst we don't know what the future holds, I'm so happy to have my beautiful Kenzie with me in such fine fettle. Dr Birgit has been incredible to both of us throughout our journey. I have recommended her to friends who have taken their pets and have also seen great results.
I genuinely feel indebted to Dr Birgit for bringing my lovely Kenzie back to me. I cannot recommend her highly enough and for anybody reading our story, perhaps facing similar challenges, then there is definitely hope.
---
Dr Birgit Ahlemeyer – Holistic Referral Vet MRCVS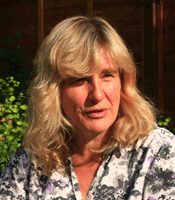 Birgit qualified as a veterinary surgeon in Germany in 1988 and after working for a year as a conventional vet she worked with Peter Andresen who was the President of the International Association of Veterinary Homeopathy. She learned to treat dogs, cats, horses and small animals homoeopathically and her PhD looked at fertility problems in horses.
Birgit moved to England in 1994 and continued to use homeopathy in small animal practices where she was working. After moving to Sussex, she became a referral vet, working with many local veterinary surgeries.
She is passionate about treating animals with the most appropriate therapy or combination of therapies in order to improve their health and quality of life. Birgit's website
---
Disclaimer – This blog was created by a guest author. CAM4Animals has reproduced this in good faith but cannot be held responsible for any inaccuracies of information in it or any use you make of this information.
The veterinary Surgeon's Act 1966 restricts the treatment of animals (other than your own) by anyone other than a qualified vet. Always consult a veterinary surgeon if you are concerned about your animal's health.